If a brush pile sounds like an unfinished project waiting to be cleaned up, think again! Brush is a resource for making your yard, garden, or acreage into a shelter for wildlife. If you have some prunings, old tree limbs, logs or storm debris, or blackberry canes, use them in the way nature intended. Make some shelters for your animal friends to use for the winter, and stay cool and safe in warmer weather.
Here is a fantastic article on the how and why of brush piles.
If you are artistic, you can fashion a beautiful sculptured one and plant something to scramble over it – a native grapevine perhaps. I got some California grape seeds from Klamath Siskiyou Native Seeds last year, scarified them, and germinated in pots during cool spring weather. They are well on their way to being vines next year.
Or, how about planting a little vine maple or evergreen huckleberry hedge around an attractive pyramid-shaped brush pile for shelter plus food? Blueberries offer a fall color bonus. Make a bamboo or cane lattice in front (doubles as a perch!)? Let your imagination roam over the raw materials all around you.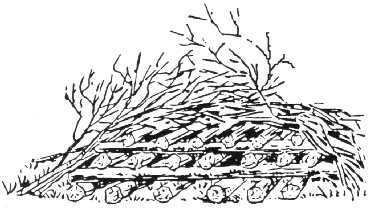 Source: Cooperative Extension Purdue University https://www.extension.purdue.edu/extmedia/fnr/fnr-102.html
Featured image: DFW Urban Wildlife http://dfwurbanwildlife.com/2011/12/14/birds/white-crowned-sparrow-brush-pile/